ITF America Black History Month Celebration
By Dr. Courtney Brown, V Dan, ITF America
Black History Month is an annual celebration for the accomplishments of notable African Americans and their roles in U.S. history. It also represents a wonderful tribute to the many outstanding African Americans who have graced our country's history. In commemoration of Black History Month, the Racial and Ethnic Diversity Committee has determined that our ITF America community has noteworthy African American members that should be celebrated for their contributions towards the growth and practice of Taekwon-Do in America. And, this committee has decided that it would be fitting to "kick" start this new endeavor during Black History Month and to take a step further into other ethnic celebrations as they occur.
Celebrating Master Roberto Roena
Pease join us in commemorating the contributions of Master Roberto Roena to our beloved Taekwon-Do. Master Roena began his training in Taekwon-Do with the United States Taekwon-Do Federation (USTF) under Grandmaster Charles E. Sereff in 1970. At the end of 1972 he transferred to Central YMCA and continued his training with Mr. Dan Beck as his instructor.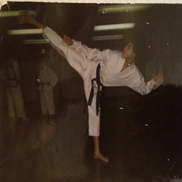 (October 1970)
A much younger Master Roena and for our younger readers this hairstyle is known as an AFRO!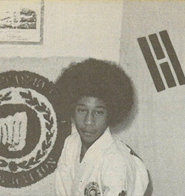 (December, 1975)
In 1976 Master Roena earned his 1st Degree Black Belt (ITF# A-1-1756), and in 1977 competed in various Open Competitions and USTF events. Master Roena continued his Taekwon-Do training in 1980 with Mr. Larry McGill, and earned his 2nd Degree Black Belt (ITF# A-2-387) in 1981. Below is Master Roena in action at the Rocky Mountain National Championships in the summer of 1981. He triumphed at the competition by winning first place in the Light Weight Kumite division.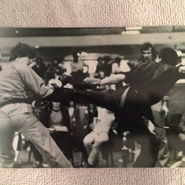 (June, 1981)
Did you know that Master Roena has ties to our nation's military? Here we see Master Roena during a demonstration at Peterson Air Force Base where he was the base's Taekwon-Do instructor.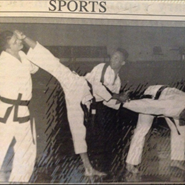 (March, 1985)
Peterson Air Force Base is located at Colorado Springs, Colorado. It provides runways for the adjacent Colorado Springs Municipal Airport under a shared joint civil-military airport arrangement. Air Force Space Command (AFSPC) is headquartered at Peterson Air Force Base. AFSPC defends North America through its space and intercontinental ballistic missile operations. (https://www.military.com/base-guide/peterson-air-force-base)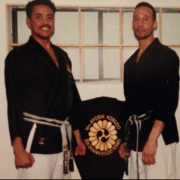 (May 1986)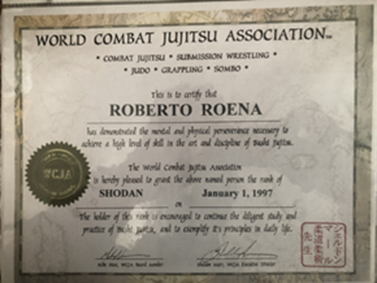 (January 1997)
Master Roena continuously strived to broaden his martial arts knowledge base by practicing other styles of martial arts such as the WTF style Taekwon-Do for several years earning his WTF 3rd Degree Black Belt in 1983, WTF 4th Degree Black Belt in 1987, and his WTF 6th Degree Black Belt in 1993. Later in 1993 he resigned his position with the WTF, and rejoined the ITF group, KoreAmerica Taekwon-Do Union (KATU), under Grandmaster Kwang Sung Hwang. He went on to host the Taekwon-Do Patterns Seminar instructed by Grandmaster Kwang Sung Hwang from 1993 to 1996. Above, Master Roena is pictured with his Kobudo instructor Master Miguel Serrano (7th Degree Black Belt in Goju Ryu Karate), and the certificate (right) is Master Roena's Shodan certification in Jujitsu.
(June, 1991)
In March 1991 Master Roena was crowned World Lightweight Champion in the World Kyuk Tooki Association (WKA) full contact bare knuckle event in Denver, Colorado. He remained champion through 1992 and then retired. This event was hosted by Grandmaster Chul Woo Jung.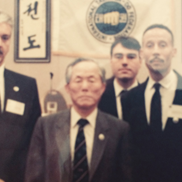 (May, 1996 in Canada)
In April 1996, Master Roena attended the ITF Instructors Course hosted by General Choi Hong Hi in Toronto, Canada. And, in December 1997 he attended a Taekwon-Do Seminar which was instructed by General Choi Hong Hi and hosted by Mr. David Karstadt in Phoenix, Arizona.
Master Roena contributed greatly towards the development and promotion of Taekwon-Do in 1998. First, he assisted in training the Junior ITF U.S. Team in
Connecticut. Next, he attended the KATU Summer Training Camp where he was selected by Grandmaster Kwang Sung Hwang to be a U.S. Team Coach. And, he performed the duties of U.S. Team Coach at the 4th Junior World Championships in New Delhi, India. In 2000, he was again selected to be one of the United States Team Coach for the 5th ITF Junior World Championships in Pyongyang, DPR Korea.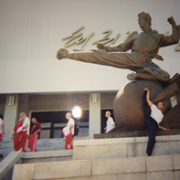 (June 2000 in Korea)
Master Roena exhibiting his flexibility during a visit to the Taekwondo Palace in Pyongyang, DPR Korea.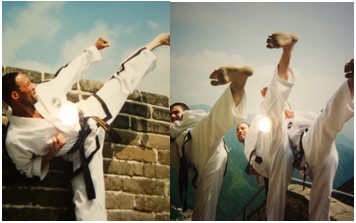 (June 2000 in China)
Master Roena and his students posing for pictures in China. He attended the Asian International Championships in Beijing, China in 2000 where he performed the duties of the Assistant U.S. Team coach.
He was appointed the position by Grandmaster Kwang Sung Hwang.

(February 2003)
Taekwon-Do is a journey….NOT a destination, as we can clearly see by the examples set by Master Roena during one of his many rigorous workouts.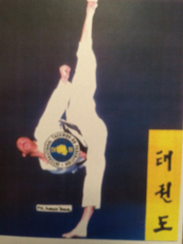 (2004)
Master Roena's world famous Side Kick!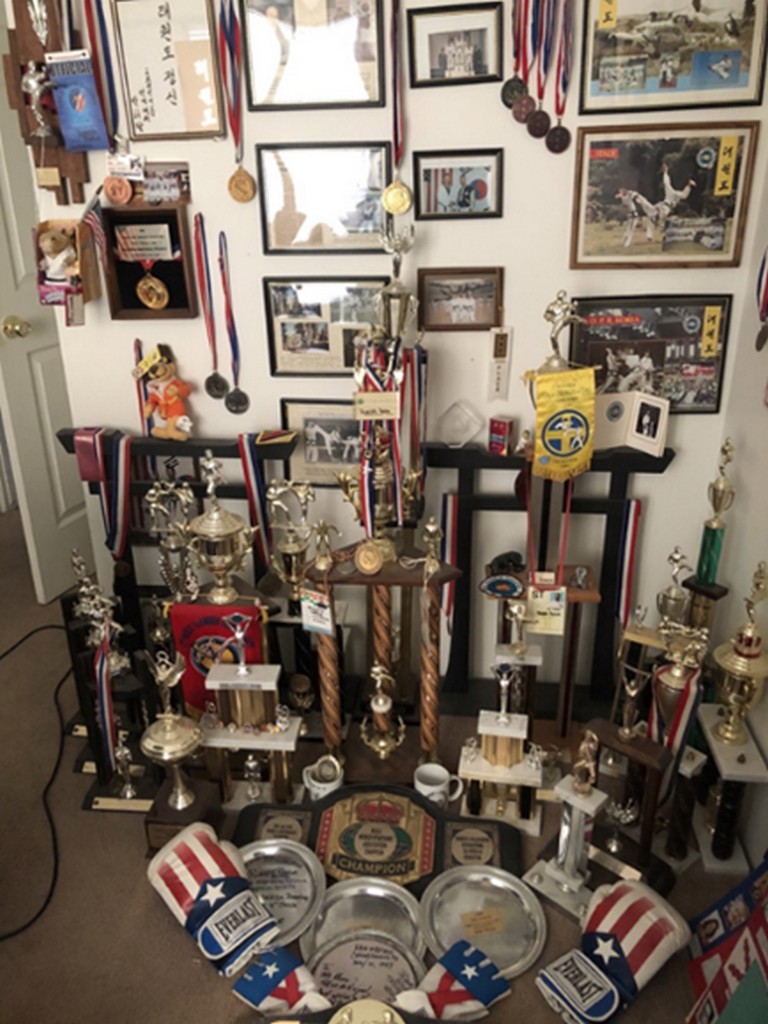 (1967 – 2005)
A glimpse at the trophies amassed by Master Roena during his tenure as a competitor!
The year 2015 was an awesome year for Master Roena by accomplishing three (3) remarkable milestones. First, he was promoted to 8th Degree Black Belt (ITF# A-8-24), next he celebrated his 37th year as a Founder for the Colorado International Taekwon-do (CIT) dojang, and he also celebrated his 44th year of practicing Taekwon-Do.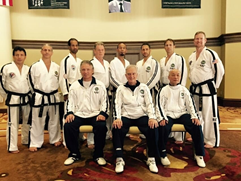 Master Roena receiving his 8th Degree Black Belt from Grandmaster Fred Akard (9th Degree Black Belt)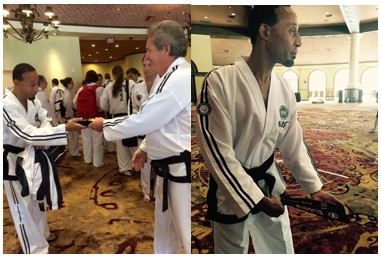 ITF America please join us in celebrating Master Roberto Roena, his efforts and accomplishments have made a lasting impression on the development and practice of Taekwon-Do today. And, his many contributions have helped to pave the way for numerous Taekwon-Do students and practitioners to emulate during their own Taekwon-Do journey.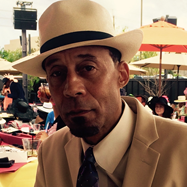 Thank You Master Roena
Taekwon!