Date/Time
Date(s) - 10/23/2021 - 10/25/2021
All Day
Location
Wyndham Orlando Resort International Drive
Categories
Dear Grand Masters, Masters, Instructors and Students:
We are very excited to invite you to the 2021 IMAF ITF TAEKWON-DO CHAMPIONSHIP to be held on October 23, 2021. The IMAF ITF Taekwon-Do Championship will be a featured event at the INTERNATIONAL MARTIAL ARTS FESTIVAL (IMAF) taking place at the WYNDHAM Orlando Resort® located at 8001 International Drive, Orlando, FL 32819 from October 22 – 24, 2021.
The IMAF ITF Taekwon-Do Championship is open to all ITF styles, ages 6 and up, white belt and above. This event will feature individual ITF Continuous Sparring and ITF Patterns. There will be a Live Streaming Broadcast of "Night of the Champions" on Saturday Night, starting at 7:30pm, featuring some of our best ITF fighters for the GRAND CHAMPION AWARD.
Friday EVENT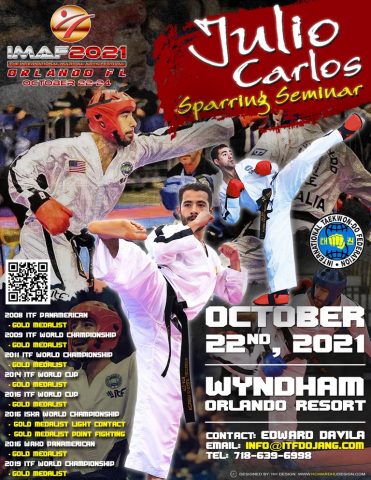 Come and train with the champion!
Julio Carlos
Sparring Seminar with multiple times Gold Medalist and World Champion!
When: October 22, 2021
Time: 6:00 PM – 8:00 PM (Two Hours)
Where: Wyndham Orlando Resort – Convention Center
Cost: $50.00 (If participant is competing at the IMAF ITF Championship,
the participant will only pay $10.00)
If you are interested in learning the sparring drills of a sparring champion, you cannot miss this opportunity to be on the floor with Julio Carlos. Don't miss it!
Saturday EVENTS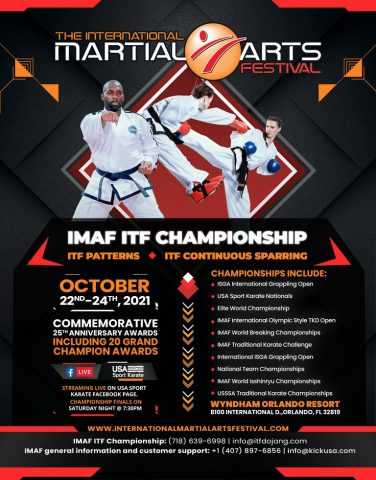 IMAF ITF CHAMPIONSHIP
ITF PATTERNS and ITF CONTINUOUS SPARRING
When: October 23, 2021
Time: 9:00 AM – 5:00 PM
Where: Wyndham Orlando Resort – Convention Center
Cost: $80.00 (ITF Patterns and ITF Sparring – Two Divisions)
$65.00 (ITF Patterns or ITF Sparring – One Division)
(If registration is paid after October 9, 2021, the registration fee will be
increased by $30.00)
Don't miss the special event of NIGHT OF CHAMPIONS featuring 2 ITF GRAND CHAMPION FINALS
Sunday EVENT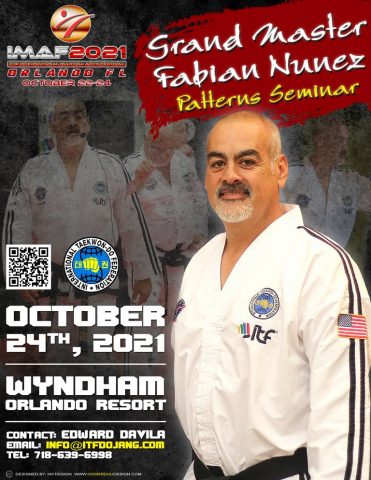 ITF PATTERNS SEMINAR
Grand Master Fabian Nunez, IX Dan, ITF AMERICA President
When: October 24, 2021
Time: 10:00 AM – 12:00 PM (Two Hours)
Where: Wyndham Orlando Resort – Convention Center
Cost: $50.00 (If participant is competing at the IMAF ITF Taekwon-Do
Championship, the participant will only pay $10.00)
Dynamic training session for beginners, intermediate and advanced Taekwon-Do practitioners
Events Organizer: Edward Davila
Organizer Email: Info@ITFDojang.com
Organizer Website: www.ITFDojang.com
Here is the link to the invitation letter:
2021-imaf-itf-invitation-package-october-22-24-2021.pdf (wordpress.com)
Here is the link to the posters for these events:
2021-imaf-events-posters-1.pdf (wordpress.com)
Registrations: (all events)
https://imaf2021.myuventex.com/reg/itf