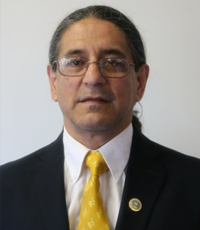 Grand Master Ruben Suarez
Board Member
A-9-7

"As a Board Member, it is my goal to be available for all of our members to share my knowledge and experience.  Together I want to help build a reputable national organization with the highest level of expertise spanning the technical, theoretical, educational and professional proficiency of ITF Taekwon-Do in the United States."
Merits
GM Ruben Suarez holds the rank of 9th Dan, Grand Master (A-9-7), awarded to him by the ITF Grand Master Promotions Committee on December 19, 2019.
GM Suarez started his training in 1973 in his native Cali, Colombia under the instruction of Jorge Luis Avendano, one of the pioneers of Taekwon-Do in Colombia.  In 1990, moved to the USA where he opened Queens Taekwon-Do Center in Jackson Heights, N.Y. only two years later.
GM Suarez remains an active, full-time instructor at QTC, which has become one of the most renowned ITF schools in the USA.  In 2007, he was awarded the honor of Best ITF Instructor at the 2007 ITF World Championship in Quebec.  His dedication to teaching shines through at every level and he remains committed to teaching regular Technical Seminars in several different countries, including his native Colombia (since 1996), Puerto Rico (since 2006), Dominican Republic, Anguilla, and Guatemala, among others.  He has also remained a dedicated instructor of numerous students and instructors across the USA and around the world.  His school is always open to visitors from near and far, and his teaching has expanded to include distance learning for students via the internet.
In addition to being a full-time instructor, GM Suarez is currently a member of the ITF International Umpire Committee, as well as the ITF Development Committee for the Caribbean and South America.
Achievements
As a student and competitor, GM Suarez was the holder of numerous titles at the national and international level.  After earning a bronze medal in patterns at the 1989 ITF PanAmerican Championships (Tegucigalpa, Honduras), he went on to earn two bronze medals at the 1990 ITF Senior World Championships (Canada), and multiple titles at several USTF National Championship in patterns, sparring and power breaking.
Utilizing his experience as a competitor GM Suarez coached his own students through numerous national and international competitions, bringing home winners of multiple international titles from no less than 15 ITF World Championships, six ITF World Cups, and seven ITF Pan American championships.
His commitment to TKD has earned him several honors including the ITF's Award for Best Instructor and special recognition by the Colombian Consulate for his work as a Taekwon-Do instructor in the United States.
Beyond the scope of competition and instruction, GM Suarez was a central figure in the panel of ITF Referees from 2003 through 2012.  In 2012 he was invited by the ITF Board of Directors to be a member of the ITF Umpire Committee, where he continues to utilize his extensive technical knowledge in the planning and enforcement of the ITF Rules and Regulations for international competition, and the training of referees worldwide.
In 2012, after serving as Vice-President of the ITF-USA for seven years, GM Suarez founded the National Taekwon-Do Federation –ITF, which remained one of the four allied associations of the ITF for nearly eight years.
Most recently, his dedication to ITF practitioners in other countries was acknowledged with his appointment to the ITF Development Committee for the Caribbean & Central America.
Career
Since the beginning, Grand Master Suarez proven an instructor in every sense of the word, taking advantage of any opportunity to improve the level of ITF Taekwon-Do practitioners at every turn.  His teaching career began in 1985 in Cali, Colombia, and hardly missed a beat when he transitioned to the USA in 1990.
With the opening of Queens Taekwon-Do Center in 1992, GM Suarez's focus has always been the instruction and development of his students, and the improvement of the community using the tenets of Taekwon-Do as tools of moral and social development.  Over the years, GM Suarez has promoted more than 200 black belts at QTC, including 30 at the instructor level.  Along with Master William Perlaza (VII), the dynamic team has earned QTC students a total of 49 titles from 15 ITF World Championship and World Cup competitions, and has played an integral role in the preparation and training of six-time ITF World Champion, Julio Carlos.
As a Grand Master, he is a true believer that we never stop learning, and he continues to expand his wealth of knowledge every day.  With over 50 international level ITF courses to date (including 38 international instructor courses), GM Suarez is constantly seeking the expansion and clarification of his knowledge of ITF Taekwon-Do.  Readily willing to share his knowledge and spread the art and spirit of Taekwon-Do, GM Suarez regularly fulfills requests to host technical seminars and conduct black belt level testing throughout the USA and internationally.
Having established himself as competitor, instructor, coach, referee and professional, GM Suarez's accomplishments as an ITF practitioner are extraordinary, and he is excited and honored to be able to share this knowledge with the future leaders of Taekwon-Do.
---