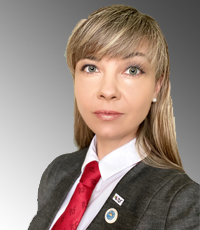 Olga Shurchkov
Board Member
No. A-5-273

"My goal as a member of the Board of Directors of ITF America is to apply my leadership skills and analytical abilities to help ITF America be globally recognized as one of the most professional, dynamic, and inclusive ITF Taekwon-Do organizations."
Merits
Since November 2017, Dr. Shurchkov holds the ITF Certified rank of 5th Dan (A-5-273). She started practicing ITF Taekwon-Do in 1996, soon after she moved to the United States from Moscow, Russia.  She previously served as a part-time instructor at her school in Sudbury/Marlboro, MA, and later at the YMCA Taekwon-Do in Hanover, MA. She is currently a part-time instructor at Central Taekwon-Do Academy in Hudson, NH, as well as at Wellesley College, where she teaches Taekwon-Do in the Physical Education department.
Achievements
In addition to being elected to the Board of Directors of ITF America, Dr. Shurchkov is a member of the ITF Business and Marketing Committee.  Outside of Taekwon-Do, Dr. Shurchkov received her Ph.D. in Economics from the Massachusetts Institute of Technology (MIT) in 2008, where she won the prestigious National Science Foundation Graduate Fellowship. Her teaching at Harvard University was recognized with the Derek Bok Center Certificates for Excellence in Teaching and the Allyn Young Teaching Prize for Excellence in Teaching of Principles of Economics.
Career
Dr. Shurchkov is a tenured professor of Economics and the Director of the Knapp Social Science Center at Wellesley College. Her previous academic appointments include a visiting professorship at Columbia Graduate School of Business and a research fellowship at the Harvard Kennedy School's Women and Public Policy Program.  During her academic career, she has served on and chaired numerous committees, including the Tenure Track Advisory Committee and the Committee on Admission and Financial Aid Policy.  Dr. Shurchkov is a member of the American Economic Association, the Economic Science Association, and the Committee on the Advancement of Women in the Economics Profession.  Over her many years of service and leadership in the economics profession, she has developed expertise in event planning, personnel management, fund-raising, communication with funders and donors, and budgeting.
Dr. Shurchkov's research focuses on evidence-based approaches to reducing economic and societal inequality and promoting diversity and inclusion of women and other under-represented minorities. Her work has been covered extensively in the media, including Bloomberg News, the Boston Globe Magazine's Women & Power Issue, and the Freakonomics Radio podcast. She frequently speaks to leaders of private sector companies and consults on matters of closing gender gaps in the workplace.  Dr. Shurchkov brings her vast research experience to the Board of Directors of ITF America to advise on issues related to diversity, equity, and inclusion.
---