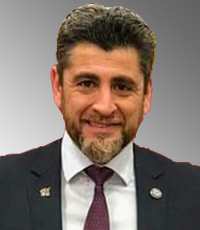 Marcello F. Cancelliere
Board Member
A-8-28

"My objective is to build a national organization which represents the legacy and spirit of our founder while providing access to technical instruction, professional guidance, business mentoring, international certification and access to global events."
Merits
Master Cancelliere has held the ITF Certified rank of 8th Dan (A-8-28) since June 2019. He became the successor to the USTC's RED TIGER TKD, a Philadelphia based ITF Group, after the passing of his father Mario in October 2018. He has owned and operate his own do-jang since 1988.
Following the General's passing in 2003, he met with GM Tran Trien Quan in Philadelphia to help form a new National Taekwon-do Association. He has since served on various National Taekwon-do Organizations including Board Member, Liason Merger Committee, Secretary General and Sr. Vice President. He holds a Bachelor of Arts degree from Temple University and a Secondary Education Certificate in Biology and true to his passion for Taekwon-do has served as a full-time instructor since 1988.
Achievements
Master Cancelliere was also an active and accomplished National and International competitor. He was a 5x National Champion and 4x US National Team Member (1994, 1997, 1999, 2007). He was twice selected Team Captain (1997 & 1999) by his peers and went on to later serve as the US National Team Coach 2005, 2009 and 2013. His dedication and hard work earned him a Bronze Medal (Russia 1997) and Silver Medal (Argentina 1999) in 4TH Dan Patterns at the respective Sr. ITF World Championships. He also enjoys sharing his experience and knowledge with aspiring competitors through seminars and in daily classes with his own students, many of which have become accomplished athletes of their own.In 1994, Master Cancelliere established a "Black Belt Class Team Fund" that sponsored its Philadelphia based black belts for international competition. He hopes to expand this project to one day provide full sponsorship to OTFA's athletes, coaches and umpires nationwide. In 2003, he was inducted into the Multiple Sclerosis Society's Hall of Fame for his extensive charity work raising over $250,000.00 for the foundation the USTC's RED TIGER Taekwon-do.
Career
He began his formal training in Taekwon-do in 1980 under the instruction of Master Bong Pil Yang earning a 1st dan with the WTF. He later transitioned into the ITF (after moving to Argentina in the early 80s) under the guidance of GM Hector O. Marano (current ITF Technical Chairman). In 1988, Master Marcello F. Cancelliere opened his first dojang at the age of 17 and has since dedicated his life to promoting the art of Taekwon-do through a well balanced curriculum for students of all ages and abilities. He continues to teach 25+ classes per week, 6 days per week. He believes that this approach is key to running a successful martial arts do-jang and that Taekwon-do should accommodate students of all ages and abilities. He frequently reminds his students, "One day when you look back at years of training, you should have more to show than just medals and trophies on a wall". Master Cancelliere has hosted numerous events including local and national championships, seminars with renown Grandmasters, Masters, Coaches and World Champions. Most notably, he has hosted the USTC RED TIGER CUP since 1988. This event has grown into one of the largest and organized ITF Style competitions in the United States with the goal of providing a positive yet challenging experience for competitors of all ages and ranks. This event has been a valuable steppingstone for many of our top US National competitors and World Champions and helped raise the level of competition on the East Coast. In addition, it has attracted many senior and special need competitors over the years showing that Taekwon-do and competition are truly for everyone.
---
---