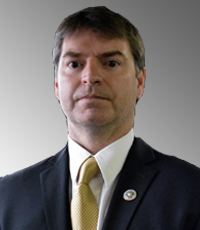 Brian McNamara
Board Member
A-8-30

"My goal as a proud member of the Board of Directors of ITF America is to help this organization grow through the unity and respect for all our members. I believe that we, as ITF America, will achieve better overall results by sharing our vast collective technical knowledge, diverse life experiences and training methods from our dedicated students and instructors. Together we will collectively strengthen ITF America. Taekwon-Do is a journey in which we learn from the pioneers and instructors who pass on their knowledge, experience and traditions. It is our duty to make it a personal journey. In doing so, we improve the Art, ourselves and those around us".
Merits
As of August 8, 2020, Master Brian McNamara holds the ITF Certified rank of 8th Dan. Master McNamara began his Taekwon-do career in 1981 under the direction of Master Jim Murray who was involved with the ITF and Vice President of the USTF in the 1980's. Being one of Master Murray's early students allowed Master McNamara to meet and train with a wide range of ITF/USTF senior instructors. As a result, Master McNamara had the honor of attending multiple International Instructor's Courses (IIC). Most notably, in 1987, he attended the first IIC held in the USA with General Choi Hong Hi and GM Park Jung Tae in St. Louis, MO and General Choi's last IIC in Denver, CO in 2004.
With 39 years of professional Taekwon-Do experience, Master McNamara has had the privilege of being promoted by a full spectrum of exceptionally talented and noteworthy Taekwon-Do leaders including Master Jim Murray, GM Charles C.E. Sereff, as well as ITF Promotion Committee Members GM Hector Marano, and GM Ung Kim Lan.
Achievements
Master Brian McNamara joined the Original Taekwon-do Federation of America (OTFA) in 2012 and now operates a full-time Taekwon-Do Academy in Hood River, Oregon. He is committed to assisting ITF America in becoming one of the highest achieving ITF Allied Associations in the world. Master McNamara has personally served his community as council member for the city of Hood River, while running Hood River Martial Arts and a popular local restaurant, Brian's Pourhouse.
Career
Master McNamara served as an Assistant Instructor under Master Jim Murray in Pennsylvania from 1983 to 1995 while earning a bachelor's degree in finance from Pennsylvania State University.  Upon graduation, he relocated to Hood River, Oregon and began service as State Director for the Oregon Chapter of the United States Taekwon-Do Federation. In 2014 Master McNamara collaborated with the OTFA as Vice President, Chair of the Ethics Committee and member of the Technical, Tournament and Promotion Committees. With this experience, Master McNamara has learned that an open line of communication with the ITF America Board of Directors and its Members is imperative to the success of the organization.
---