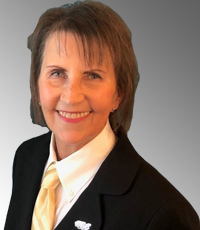 Master Becky Faarborg
Board Member
No. A-7-72

"My goal is to promote, serve and represent the ITF America membership. I consider ITF TaeKwon-Do as a way of life and wish to share my passion and respect of the Art and teachings of General Choi, with my students and the Taekwon-Do family."
Merits
Master Faaborg holds the rank of 7th Dan (A-7-72)
She was an assistant instructor and opened Mr. McGinnis's second dojang location in Albuquerque, NM. She opened her dojang, Edmond Trails TKD, in 2006. Master Faaborg joined the ATFI in 2004 and became the Promotions/Membership Chair from 2011 to 2019.
Achievements
ATFI Promotions and Membership Chairperson for 9 years, where she became acquainted with members, ITF Headquarters and worked closely with her instructor, Master Fabian Nunez. During the course of her ITF TaeKwon-Do career, she has met many TaeKwon-Do practitioners around the world. Master Faaborg opened Edmond Trails TKD in 2006, providing learning opportunities to many students from diverse backgrounds.
Career
Master Faaborg began her Taekwon-Do career in Albuquerque, NM, with the USTF in 1989. Mr. McGinnis was her instructor and she became an Assistant Instructor at Albuquerque Taekwon-Do from 1993 to 2001. After moving to Oklahoma, she taught private students and worked at Deaconess Hospital while completing a Master's degree in Wellness Management/Exercise Science in 2006. Her graduate preceptorship at The Trails YMCA provided the opportunity to open Edmond Trails TKD at that location in 2006. When the new Mitch Park YMCA opened in 2015, her school transferred to the larger facility, allowing more students to join. Her degree in Wellness Management brought together her passion of TaeKwon-Do, fitness classes and health/nursing.
Master Faaborg competed in local and national tournaments as a First to Fifth Dan, and more recently has umpired, coached her students and served as the "Medic on site". She is a Class B umpire.
Master Faaborg has attended many IIC's, ATFI Pattern and Technical Seminars, and other training events throughout her TKD career. Her Taekwon-Do family includes many from around the world.
BSN – University of New Mexico
MSN – University of Central Oklahoma, Wellness Management/Exercise Science
Adjunct Professor, UCO, 2006 – 2010, taught Wellness and Responding to Emergencies
RNC: worked as an RN from 1986 to 2019, recently retired
---