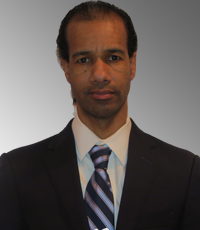 Master Alvin Bernard
Board Member
No. A-7-56

"My objective as a member of the ITF America Board of Directors is to help build a strong ITF organization in the United States, where we can financially assist our athletes & umpires to travel and compete throughout the world."
Merits
Master Alvin Bernard is a 7th Degree Black Belt and an Olympic Coach. His formal training in Taekwon-Do began in Aachen, Germany under the direction of Mr. Peter Koch in the early 1980's.
He has trained and competed in numerous styles of martial arts in order to expand his abilities and knowledge. Master Bernard is the owner and chief instructor of Team USA Taekwon-Do Fitness for over 24 years. His TKD school is the longest operating school in Fort Lee, New Jersey. Team USA Taekwon-Do Fitness has demonstrated to be one of the most successful schools in the United States. He has produced national and international champions and Olympic athletes in numerous styles of Martial Arts. Some of his students including, four-time USA National Team member Merissa Pico, 2014 World Cup Champion Marc-Dimitri Akda and 2012 Olympian, Kenneth Edwards.
Achievements
Master Bernard was a US National Team Member in 2003 & 2007. At the 2003 US Nationals, Master Bernard won two gold medals in both Sparring -63kg and 4th Dan Patterns. In 2003 representing the USA in the Australian Open, Master Bernard won three gold medals in Individual Sparring, Team Sparring and Team Breaking. He also placed second in Individual Patterns. After retiring from competition, Master Bernard became a coach for the USA National team for many years. In 2012, he was elected to coach in the London Olympic Games. He is also a Certified International Instructor who is often selected to assist at the IIC courses. He was selected to assist with teaching the 1st Dan thru 3rd Dan black belts in the 2013 International Instructor Course in Jamaica W.I. and again at the 2015 & 2019 IIC in Las Vegas, USA. He is also a certified International Class A Umpire/Referee. In 2014, he was selected to referee on center stage for the World Cup in Montego Bay, Jamaica. Beginning in 2014 to date, Master Bernard has been selected to umpire on Center Stage in every World Cup and World Championships. Annually, Master Bernard can also be seen on the ESPN network umpiring the "Night of Champion" ITF Continuous Sparring.
Career
Since 1990 Master Bernard has been teaching in the Fort Lee area. His experiences as an instructor range from private lessons with clients to instructing children at the following public schools: Lewis F. Cole Middle School and Huaxia Chinese School in Fort Lee, New Jersey and Eleanor Van Gelder Elementary in Edgewater, New Jersey. Each year, Master Bernard completes numerous Umpire and International Instructor Training Courses with some of the world most renown Grand Masters including GM Hector Marano, GM Wim Bos, GM Trajtenberg, GM Ung Kim Lan, GM Tran Trieu Quan in 2004, General Choi Hong Hi last seminar in 2002 and with Grand Master Sheriff. Master Bernard also gives seminars throughout the US and abroad sharing his winning sparring techniques as documented on his DVD The Edge, Elite Footwork.
---